Meet and Collaborate With Your Distant Cousins At OneGreatFamily
Accelerate Your Genealogy Through Collaboration
One of the promises of OneGreatFamily is that you can meet and collaborate with family from around the world. The act of creating or submitting your family tree using OneGreatFamily is the beginning of a collaborative experience, but OneGreatFamily provides a number of means for collaboration!

So, what is collaboration? Collaboration occurs when people work on the same line or ancestor at the same time, dividing up the work while sharing the evidences and conclusions reached. Collaboration can be very worthwhile if basic ground rules and common courtesies are followed. The following are some ground rules to follow:
Before you collaborate with others, organize any information you have already gathered and try to validate as much of your own information as possible. Your collaboration will be appreciated by others if you have your own evidence to bring to the table.


When collaborating, it is important to know the difference between evidence and conclusions. Instead of entering your conclusions first, look at your evidence, make assertions from the evidence, and make further assertions on top of those. In the end, your evidence should support your conclusions.


Make sure you have detailed information on how, when, and where you found your information.


Invite and accept as many individuals as possible to collaborate on your tree. The more people that collaborate on the same family tree, the more accurate your family tree will become.


Make sure that the genealogy program you use allows you to add, edit, and delete the unwanted information inserted into your family tree. (OneGreatFamily allows you to delete any information you don't agree with without impacting other users.)


Know the difference between primary, secondary and tertiary sources. A primary source document is one created at the time of the event. A secondary source is one created either significantly after the event or by a person who was not present at the event. Tertiary sources are generally summations or derivations (e.g. a typed index to a census or a family oral tradition). Whenever possible, base your conclusions on primary sources.


You will generate better relationships with the people you collaborate with by by keeping them up to date with new information you find about common ancestors.



Please, please, please put your sources in OneGreatFamily. No other technique will help other genealogists collaborate better, as it empowers them to evaluate your evidences as well as their own.



OneGreatFamily is designed to allow members to communicate and work together to build their family trees. Using the "Collaborate" feature saves you time and effort. OneGreatFamily believes that collaboration is essential to prevent duplication. Working on your family tree in OneGreatFamily is collaborative by its very nature.

Whether or not you communicate with distant family through email, you are still collaborating every time you use OneGreatFamily. You are adding individuals to the human family tree that will someday result in hints, merges, and collaboration for others who are also using OneGreatFamily. If you are interested in verifying information you find on OneGreatFamily, you can see a list of the original submitters whom you can then contact. Collaboration is an essential tool that will accelerate this process and prevent duplication.


OneGreatFamily Tip: See Other Resources Available At OneGreatFamily To Help You Find Your Ancestors
OneGreatFamily Provides Tools To Help You Find Your Ancestors
Many OneGreatFamily guests have specific research needs that go beyond the resources currently available within OneGreatFamily Genealogy Browser™. When you visit the Genealogy Tool's Page at OneGreatFamily, you will find links to some of the most valuable genealogical resources around. Here is a list of those resources:
If you would like to become part of our resource index, send us an e-mail with the site you would like us to include. We are always open to any suggestions on how we can help make your research process easier and help keep you more organized. Please send your suggestions to ogfmarketing@onegreatfamily.com!
Success at OneGreatFamily
I Was Amazed In 3 Days!
We enjoy hearing about the success our members have in building their family trees at OneGreatFamily. We appreciate Jodi for sharing her success with us.
Hello ,

I wanted to send an email to let you know how much I love your program.

When I started researching my family tree 3 or 4 years ago, I ran into a brick wall and stopped. I recently got excited again and thought I would try again to grow my tree. I searched the internet everyday for programs that would help me locate more members, and found that each little program was going to cost me money. After I added all the memberships up, it was going to cost me a lot of money.

Then, I came across OneGreatFamily and Ancestry.com. Though it looks like Ancestry.com has more access to records, I decided that I liked the idea that OneGreatFamily helped link what they find as matches. I did the 7 day trial and was amazed in 3 days. I started out with only 420 people in my database and within 3 days I had 6,000. But that is not even the greatest part. After about 7 days, I checked it again and had over 16,000 people added to my tree.

The coolest part is that I met a relative from my grandmother's side that I had never met before and we are now e-mailing each other. I also found out that I have kings, presidents, and countesses in my tree - how awesome is that!

Thank you for letting me share,
Jodi "Bowen" Jones
You can view more success stories by visiting:
http://www.onegreatfamily.com/LearnMore/SuccessStories.aspx
If you have had success using OneGreatFamily, please let us know. We would love to hear from you. Please contact us either by visit our Contact Page or by emailing ogfmarketing@onegreatfamily.com. Thank You.
One Great Genealogy Site Award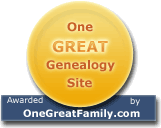 PrintMyFamily.com
PrintMyFamily.com is designed to provide consumers with an easily accessible marketplace for large-format wall hangings, placing special emphasis on personalized genealogy charts and photos reproduced on canvas. You can accent your home decor with stunning, full-color, genealogy charts filled with family photos, or showcase your professionally printed genealogy charts and make copies for your family members for family reunions.
Visit PrintMyFamily.com today
Get FREE Time On OneGreatFamily.com
Want Some FREE Time?

Current subscribers can earn additional free time by referring others to OneGreatFamily.com. OneGreatFamily needs your help in growing the largest single family tree in the world. You can get free subscription time on OneGreatFamily by referring others to this unique service. When anyone you refer to OneGreatFamily subscribes to our service and enters your username, you get an additional free month.



This newsletter is provided as a FREE service to the members of OneGreatFamily.com
You can view past editions of this newsletter by visiting our Newsletter Archive.
To unsubscribe to our newsletter service, you may do so by accessing our newsletter preferences page at htts://secure.onegreatfamily.com/Account/Edit/EmailPreferences.aspx.

Managing Editor: Heather Matthews
Contributors: Heather Matthews, Mandy Mathews and Rob Armstrong
Editor: Eric Hoffman