OneGreatFamily Provides Three Ways For You To Manually Search For Your Ancestors
The most effective way to find your ancestors is to let Genealogy Browser do the work for you. Simply put as much information as you have into Genealogy Browser, wait a few days, and then check back to see what additional information we have found on your ancestors. If, for some reason, you do not receive any matches at first, don't despair. The information that you enter will be continually searched for possible matches against each and every record that is submitted to OneGreatFamily.
However, OneGreatFamily also provides our members three other methods of finding your ancestors manually:
1. You can search for individuals in OneGreatFamily by using the search options on the OneGreatFamily website by clicking Here. You will see the following search box that will allow you several search options. In the future, you can access this search box from your "My Home" page.
2. You can search for individuals in OneGreatFamily by using the using the Surname Indexes by clicking Here. On the page you will browse through the Surnames. Once you find the surname you are searching for, clicking on it will show you the following results where you can see individuals in OneGreatFamily with that surname and also you can search through the Social Security Death Index.
3. You can search for individuals in Genealogy Browser if you have created a group. To search using Genealogy Browser, press the Search button on the toolbar, or go to View, OneGreatFamily Search View.

This will open the search section on the right side of your screen.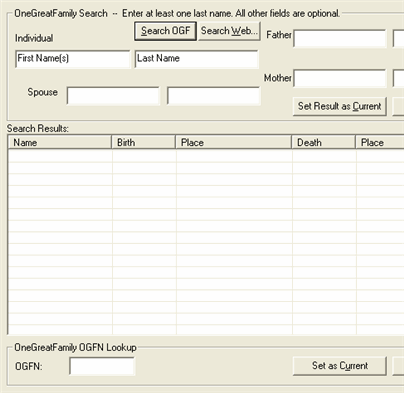 Type in the information about the ancestor that you are looking for and press "Search OGF." Genealogy Browser will then search to see what matching information is found in our system. If you press "Search Web," Genealogy Browser will use the information that you entered to search through other resources, such as FamilySearch.org, RootsWeb.com, and the Social Security Death Index.

We hope you find these Search features helpful when trying to find more ancestors to add to your family tree so OneGreatFamily can find more ancestors for you!