Can I Trust OneGreatFamily With My Genealogy?
We Built A Foundation of Trust at OneGreatFamily
Even with all the benefits an online genealogy service can provide, most researchers are still hesitant to subscribe because it is a decision filled with questions and uncertainty about trust and credibility. OneGreatFamily's business is focused on facilitating genealogy growth and discoveries by providing personalized access to the world's largest human family tree.
Trust is an important concept whenever you provide any information to any commercial entity. Trust is often more difficult to earn for companies that do online business. Some considerations include how your information will be used and the business model of the company receiving your information. At OneGreatFamily, we build a foundation of trust by working and researching together.
OneGreatFamily takes your family tree research seriously. OneGreatFamily always provides you with access to any information you submit to OneGreatFamily, even if you are not currently subscribing to the service.

OneGreatFamily will never sell your information on CD-ROM or prevent you from updating your family tree at your convenience. As explained in previous articles, OneGreatFamily sells access to a Genealogy System rather than selling genealogical data.

At OneGreatFamily we make sure our subscribers and guests are getting what they expect from an online genealogy service. Our online services are easy to use, produce fast results, save you time and money, are convenient, and generate constant growth. We help you to uncover the information you need in the quickest and most economical way. OneGreatFamily is a service that was created to help genealogists get through their "brick walls" and move forward with the help of others from around the world. With OneGreatFamily you are able to see others who are researching your family lines, perform live collaboration with others, match and merge information, and verify and expand your family tree.
OneGreatFamily is one of the few success stories of online subscription services. With a growing subscription base, the company has created a solid foundation on which it will build for years to come. We hope that by using OneGreatFamily you have discovered the real value of genealogy, which is finding out about the people and places which made you who you are!
OneGreatFamily Tip: Forgot Your Username or Password?
How Do I Recover My Login Information?
When you first subscribed or signed up as a guest, it was required that you enter an username and password. Once this was completed, we sent you a welcome email with your registration information, which included your password and username. If you are not a frequent user of OneGreatFamily, it's possible that you have forgotten your username or password.

Check your old email to see if you still have our welcome letter containing your registration information. If not, we can send your username and password to you again. If you have forgotten your username or password, use the Remind Me! feature. All we need is your username or email address. If the information you submit matches the information associated with your OneGreatFamily account, an email will be sent to you with your login information.

If you have changed your email address since you created your OneGreatFamily account or do not receive your login information by email within a few minutes (when using the "Remind Me!" feature above), you may contact OneGreatFamily Customer Service by filling out the Contact Form. OneGreatFamily Customer Support will ask you a few questions to verify you are the owner of the account, and then supply you with your login information.
Genealogy Tip: Build Trust In Your Family Tree By Adding Documentation
How Can I Tell If The Information Online Is Correct?
Don't always believe everything you read! In genealogical research and in life, we all need to be careful not to believe everything that we hear and see. When you are not looking for information with credentials, it is amazing the amount of false information that can be found.

For years, information on the Internet wasn't taken seriously. Why? Because anyone could post anything they wanted, and not many people were taking the time to document what they posted. As the Internet has progressed, so has its credibility. To make sure that the information you take from the Internet is credible, there are now citations and documentation to validate it.

In the same respect, OneGreatFamily encourages the documentation of source data in order to allow all members to utilize and improve upon credible data. One of the main ideas behind OneGreatFamily is that we are all researching together, so that we can save time and work by building a foundation of trust. In order to build trust, documentation and credibility is needed.

Adding all available documentation about how, where, and from whom we obtained certain genealogical information, adds credibility to our work and saves time for everyone who works with us. Documenting data is sometimes misrepresented as time consuming and complex; however, once you understand a few simple concepts, you are ready to roll.

The differences between citations and notes are often subtle, but do exist. Citations typically contain information about the source from which you received your data, while notes are used to capture the specific information found in those sources, such as occupations, migration information, and name variations.

Source documentation and citations allow other researchers to verify the information that is being cited by tracing the data to a primary source of evidence. A citation should provide enough information for other researchers to find the same documentation. OneGreatFamily allows you to add information from numerous sources to each individual or family record in your family tree.

Notes often contain information such as changes in the spelling or pronunciation of names, addresses, occupations, friends or associates, and any other available information about an individual. Notes can be very valuable when providing original data not found elsewhere.

Whenever reviewing personal genealogical information, source information is incredibly valuable. Keeping your information well documented and organized is a great courtesy to other researchers who may wonder if your information can be trusted.
One Great Genealogy Site Award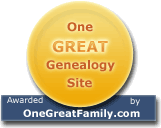 Yesteryear Memories
A photograph captures a special moment in your family history. Don't let it fade away. As experts in our field of digital photo restoration, photo retouching and photo enhancement services our main focus is to ensure that those special memories or moments preserved in time, remain more than just paper and chemicals.
When you place your trust - and your photographs - into our hands, you can rest assured that we will treat your memories with the same care and attention to detail that we would apply to our own. At Yesteryear Memories, our clients benefit from our industry expertise, personalized attention, and the sense of ownership we apply to each enhancement, photo restoration, or digital retouching project. Click here for a free, no-obligation price quote.
Visit Yesteryear Memories
Get FREE Time On OneGreatFamily.com
Want Some FREE Time?

Current subscribers can earn additional free time by referring others to OneGreatFamily.com. OneGreatFamily needs your help in growing the largest single family tree in the world. You can get free subscription time on OneGreatFamily by referring others to this unique service. When anyone you refer to OneGreatFamily subscribes to our service and enters your username, you get an additional free month.



This newsletter is provided as a FREE service to the members of OneGreatFamily.com
You can view past editions of this newsletter by visiting our Newsletter Archive.
To unsubscribe to our newsletter service, you may do so by accessing our newsletter preferences page at htts://secure.onegreatfamily.com/Account/Edit/EmailPreferences.aspx.

Managing Editor: Heather Matthews
Contributors: Heather Matthews and Rob Armstrong
Editor: Eric Hoffman