People From All Over The World Are Building The OneGreatFamily Tree
Are you taking full advantage of everything OneGreatFamily has to offer?
The OneGreatFamily Tree is a powerful genealogy database that is shared and built by people like you from all over the world. Everyone's genealogy ties into the OneGreatFamily Tree. Once you have submitted what information you have about your ancestors, there is more to do at OneGreatFamily:
Discover what has been done on your family tree already: Every single name, date, place, picture, biography and video clip has been submitted by people like you. In fact, the OneGreatFamily Tree started without a single name. Users in over 170 countries have submitted over 138,000,000 names . . . and we've only just begun! So what does a "shared" worldwide database mean to you? It means someone else may have already entered dozens or even hundreds of your ancestors!


Start researching where others left off: Spend some time searching for your ancestors at OneGreatFamily and pay special attention to new information that is added to your pedigree over time. This will help you know what research others have already done or are doing on your family tree. You can then spend your time conducting new research or simply verifying information that others have provided.


Meet and collaborate with family: OneGreatFamily allows people around the world to work on one common family tree. This means others can be researching and improving information on your ancestors. Wouldn't you like to meet and collaborate with these genealogical cousins? You can! OneGreatFamily provides collaboration features that allow you to work with other researchers and family members.


Search millions of names: At OneGreatFamily, you can search millions of names in the OneGreatFamily Tree and in the Social Security Death Index. When you find an individual that you would like to learn more about, simply click on them to view detailed information that we store in our databases.


See your entire pedigree at once: OneGreatFamily provides you with powerful software for viewing, organizing, and saving your family tree. As your family tree continues to grow, you can easily see what you have accomplished and where OneGreatFamily has helped. OneGreatFamily does what no other family tree software can do by letting you see your entire family tree at one time! You can zoom in to see more detail and zoom out to get a view of your family tree.


Automatically find your ancestors: Create your family tree and watch it grow automatically over time. OneGreatFamily searches for ALL of your ancestors, ALL the time. Automatic processes continually review the ever-growing OneGreatFamily Tree. If two individuals are identical, they are automatically identified as being the same. If the individuals appear to be the same person but have different relationships, birth data, or death data, you will be able to manually determine if they are the same and merge the records together.


Connect to the original online family tree: We connect you to the largest family tree online so you can see how you are related to the rest of humanity! Start by creating your family tree at OneGreatFamily or by submitting a family tree you have already created. If anyone else has been working on your family tree, OneGreatFamily will automatically identify common ancestors and tie your family's branch into the largest single family tree available.

As OneGreatFamily continues to grow, we are committed to the success of each of our members in furthering genealogy research and connecting to work that has already been completed in OneGreatFamily. Our hope is that everyone who visits OneGreatFamily will come to appreciate the unique services provided to the genealogical community.


OneGreatFamily Tip: Have More Success By Standardizing Places
Standardizing places may result in more ancestors being added to your family tree.
Over the past year we have made significant improvements to OneGreatFamily Genealogy Browser™ that increased the amount of automatic place standardization performed by OneGreatFamily. However, the system is not foolproof yet, and so automatic place standardization in some circumstances won't occur.

This can really hinder your efforts at OneGreatFamily because non-standardized place names may cause individuals to not match, blocking an automated merge that could bring more leads to your attention.

For example, I was researching an ancestor of mine when I found that my father had abbreviated some places when he entered the data, causing them not to match. For example, he listed my great-, great-, great-, great-grandmother as being born in Hull, Ykshire,, England. In doing some research, I have confirmed that this was actually Hull, Yorkshire, England.

There are several reasons why Genealogy Browser may not be able to automatically standardize a place. Keep these in mind when you are entering or editing your family tree information:
Don't use abbreviations in the place of city names. For example, use "Salt Lake City" instead of "SLC", use "New York" instead of "NY" or "NYC" and use "Baltimore" instead of "Balt."
CA can be interpreted as either Canada or California and DE can either be Denmark or Delaware. So please, even if you are sure you are using a standardized abbreviation, please spell it out.
There will always be 4 elements separated by 3 commas in every place name, as shown here: city, county, state, and country. Genealogy Browser will automatically try to break down each location appropriately. You should double-check that it does it correctly.
Don't write in the actual street address in the place box. You can put addresses or buildings in the notes section.
If you don't know, leave it blank. Often people will put "???" or "unknown" or "unk." You should avoid doing this because the site will search for matches to fill blanks for you.
Make sure and always put the country. It may be obvious to you and others which country it is, but not to the OneGreatFamily system. The more information the better when entering information.
| | |
| --- | --- |
| We have a tool to help if you have any questions on whether you're entering the place correctly. To the right of the birth, death, and other places, you'll see a pencil icon (see the image at the right). Click on that icon and Genealogy Browser will show you how it breaks down the current entry into city, county, state, and country. Look in there to make sure your places look correct so you can have your records standardized with the rest of OneGreatFamily's records. | |
By cleaning up your place names, your will increase the likelihood of OneGreatFamily finding additional ancestor leads for you, which means you could see more ancestors added to your family tree.


"Making Genealogy Magic"
British Military Records
by Mandy Mathews, Family Historian
The diligent family historian with roots leading back to the British Isles needs to spend some time researching British Military Records. The British Army has a strong tradition of usually being involved in some sort of military action. With the exception of the militia, most military personnel devoted themselves to the military as a lifelong career. Starting as early as 1660, the Irish military was considered part of the British armed forces. In 1922 Ireland distinguished their military as a separate entity.
The British armed forces have a rich history of military involvement. Here are a few of the more notable military actions:
1688 – 1745 The Jacobite Rebellions
1755 – 1762 The Seven Years War:

(A.K.A. the French and Indian Wars in North America) This war involved over 120,000 and started the practice of continuous military records.

1775 – 1783 U.S. Revolution
1805 – 1815 Napoleonic Wars:

(These wars involved over 365,000 soldiers and 300,000 seamen.)

1854 – 1856 Crimean War:

British Army sent 225,000 troops to fight in Crimea (Turkey).

1857 – 1860 Indian Mutiny
1877 – 1901 Boer Wars:

These wars led to South African independence and unification.

1914 – 1918 World War I:

Almost 3 million British troops served in this war.
This is just a sampling of the many military actions involving British servicemen. British military records after World War I are largely unavailable due to privacy restrictions. Some key websites for searching British Military records include:
www.genuki.org.uk An excellent source for all British Isles research.
www.pro.gov.uk This is the United Kingdom's national archives website.
www.familysearch.org The LDS Family History Library holds a vast collection of British military records. Search the FHL Catalog online to see a complete list.
British military records are a valuable resource for genealogists. The internet is making them more readily available, so if you have searched in the past and been unsuccessful, it never hurts to take a second glance. The information you obtain from this records is very similar to the information available on U.S. military records. If you have never considered these records as a resource, please give them a chance. You never know what you might find!
One Great Genealogy Site Award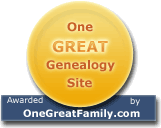 DutchGenealogy.com
Do you have Dutch ancestors? DutchGenealogy.com is an excellent resource for anyone whose ancestral lines trace back to Holland. The site has many databases, products, and tools for learning about your Dutch Ancestry. The site features databases of christenings, and court and notary records for South Holland. The site also includes a records timeline and a document of common Dutch first names.
Visit DutchGenealogy.com today
Get FREE Time On OneGreatFamily.com
Want Some FREE Time?

Current subscribers can earn additional free time by referring others to OneGreatFamily.com. OneGreatFamily needs your help in growing the largest single family tree in the world. You can get free subscription time on OneGreatFamily by referring others to this unique service. When anyone you refer to OneGreatFamily subscribes to our service and enters your username, you get an additional free month.



This newsletter is provided as a FREE service to the members of OneGreatFamily.com
You can view past editions of this newsletter by visiting our Newsletter Archive.
To unsubscribe to our newsletter service, you may do so by accessing our newsletter preferences page at htts://secure.onegreatfamily.com/Account/Edit/EmailPreferences.aspx.

Managing Editor: Heather Matthews
Contributors: Heather Matthews, Mandy Mathews and Rob Armstrong
Editor: Eric Hoffman