Take Note: Planned Website Maintenance Tuesday

Website Unavailable Early Tuesday Morning
Our website, OneGreatFamily.com will be unavailable Tuesday morning, December 12th, from 12:00am MST to 4:00am MST (7:00am GMT to 11:00am GMT) for planned hardware relocation. Please know that we only take the site down when absolutely essential.
Over the last 12 months we have seen so much growth that we have to relocate to a bigger hosting facility that can handle our continued growth rate.
Our goal is to continue providing you with the best in automated matching and merging. We ask that you bear with us, and come visit the site at another time.
Thank you for you patience and your patronage,
Rob Armstrong
Senior Vice President, Marketing and Sales
Free Gift With Purchase: "QuickSheet" by Elizabeth Shown Mills
A $10 Gift Is Yours Free With Purchase Of Subscription to OneGreatFamily
Until December 10th, sign up for a monthly, quarterly or annual subscription to OneGreatFamily and we will give you Elizabeth Shown Mills, "QuickSheet: Citing Online Historical Resources." This valuable resource guide provides a template for citing historical sources from the Internet.
Consider what more you can experience with a subscription to OneGreatFamily:
Search over 130,000,000 submitted ancestors
Unlimited access to the largest Internet-based collaborative family tree
Automatic backup of your family tree data
OneGreatFamily automatically merges two family trees when it finds the exact same person in both
Access your family tree anywhere you have internet access
Genealogy Browser™, a full featured PC software program for entering, storing and surfing your family tree
Much, much more...
Genealogy Tip: Adding Documentation To Your Family Tree At OneGreatFamily

Learn How to Add Sources at OneGreatFamily
In last week's newsletter we featured an article on the importance of documenting your family tree. The following are instructions to add documentation information to your family tree at OneGreatFamily.
To add documentation to an ancestor's record, simply open an Individual Record in Genealogy Browser. On the right side you will see buttons for the different types of documentation features:

Citations: Citations are references to the specific evidence that you have found on an individual during your research. Citations are very important for establishing the credibility of information, but they can also help others in their research. The information you save in the citations becomes part of OneGreatFamily and is available to others to help with the collaborative effort.
Citations are stored with each specific individual's information. When you click the citation button, you are presented with the citation window containing listings for Individual Sources, Birth Sources, Death Sources, Christening Sources, and Burial Sources. These five categories help to group citations for quick access. Be sure you name your citations with a title that is explanatory and easy to understand at a glance.

Biography: Open the Biography window by selecting the Biography icon. This section allows you to insert files of three different formats: text (txt), rich text format (rtf), or hyper-text markup language (html). By allowing these different file types, biographies on individuals can be simple or stylized. You are also not limited to just one file; you can make as many files as you would like to include.
Notes: The Notes section is where you store those extra bits of information that don't seem to fit anywhere else, but are important enough to keep. When editing an individual's information, click on the notes button on the right, represented here in the spot shadow. The notes window will display, and you can add information as needed.

Research Log: Research notes can be extremely helpful to you and others working on the same areas of genealogy. While doing your research, leave yourself memos on recent information you have found, where you have left off, or anything that will help in the process. These memos will be helpful for you, others in your family group, and any others in OneGreatFamily that are trying to further the collaborative effort on research for that person.
"Making Genealogy Magic" with Mandy Mathews
United States 1920 Census
by Mandy Matthews, Family Historian
Continuing our study of the United States Census, this week we will look at the 1920 census. As the census progressed, more questions were asked. Here is what the 1920 census contains:
Place of abode

Street, avenue, road, etc.
House number or farm

Name of each person whose place of abode on January 1, 1920, was in this family
Relationship of this person to the head of the family
Tenure

Home owned or rented
If owned, free or mortgaged
Personal Description

Sex
Color or Race
Age at last birthday
Single, married, widowed, or divorced

Citizenship

Year of immigration to the United States
Naturalized or alien
If naturalized, year of naturalization
Education

Attended school anytime since September 1, 1919
Able to read
Able to write

Nativity and Mother Tongue – Place of birth of each person and parents of each person enumerated. If born in the United States, give state or territory. If foreign birth, give the place of birth, and, in addition, the mother tongue.

Person – place of birth, mother tongue
Father – place of birth, mother tongue
Mother – place of birth, mother tongue
Occupation

Able to speak English
Trade, profession, or particular kind of work done.
Industry, business, or establishment in which at work.
Employer, salary or wage worker, or working on own account
Number of farm on schedule
The citizenship information obtained on this census can be very valuable. If you can obtain the year of immigration, you can be led to a specific time period to search for passenger logs and immigration records. The year of naturalization can lead you to the actual naturalization records, which can provide valuable information on where an individual is born, sometimes including the town, village, or parish name.
Another valuable piece of information is the mother tongue of an individual. This is particularly helpful in areas in and around Germany. The German borders changed so many times, as well as many of the Slovick nations, the language spoken can give you a clue to the specific demographic area. Whether your ancestor immigrated during this time period or not, the census always sheds light into the details of your ancestors' lives. The details are what make family history exciting, please don't overlook them!
One Great Genealogy Site Award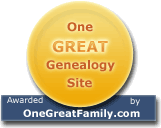 Linkpendium.com
Linkpendium.com is a helpful resource for genealogists. There is so much free information on the internet that it's becoming very complex to find your ancestors. Linkpendium.com is a site that categorizes and organizes genealogical information.

Even looking beyond genealogy, Linkpendium is one of the largest human-edited directories to resources on the Web. The Linkpendium collection includes 3,516,226 links specialized to genealogical information.
The links are divided into two collections. There is a 3,033,240 link surname collection, categorized by almost a half-million surnames from around the globe. There is also an American locality collection, categorized by the 3,000+ American counties and similar geographical entities.

On average, 100,000 links are added each month. Check out Linkpendium.com to see if you can find any of your ancestors in the new genealogy directory.
Get FREE Time On OneGreatFamily.com
Want Some FREE Time?

Current subscribers can earn additional free time by referring others to OneGreatFamily.com. OneGreatFamily needs your help in growing the largest single family tree in the world. You can get free subscription time on OneGreatFamily by referring others to this unique service. When anyone you refer to OneGreatFamily subscribes to our service and enters your username, you get an additional free month.



This newsletter is provided as a FREE service to the members of OneGreatFamily.com
You can view past editions of this newsletter by visiting our Newsletter Archive.
To unsubscribe to our newsletter service, you may do so by accessing our newsletter preferences page at htts://secure.onegreatfamily.com/Account/Edit/EmailPreferences.aspx.

Managing Editor: Heather Matthews
Contributors: Heather Matthews, Mandy Mathews and Rob Armstrong
Editor: Brenda Eyring