Join OneGreatFamily For Only $5 A Month
Sign Up Today And Get 3 Months Free
You've thought about signing up. You've checked out the service and you like what you see. But you've been holding back waiting for the right time. Well, the right time is NOW!
Only 2 Days Left! This promotion will be available only until November 19th.
Buy an annual subscription and you will get an additional 3 months added to your subscription for free. So you get 15 months for the price of 12. That's 25% more time for the same money--an average monthly cost of ONLY $5.
To take advantage of this offer you must login with your guest account information and then choose the option to upgrade your account.
If you know your user name and password, please click here.
If you don't remember your user name and password, please click here.
5 Reasons to Subscribe Right Now!
Fast and Easy—OneGreatFamily works even while you sleep to do all the searching and sifting for you.

Collaborative—Accomplish more in less time by leveraging the work of others.

Convenient—OneGreatFamily is available 24 hours a day, 7 days a week from the convenience of your home.

Large and Growing—Search over 134,000,000 submitted names from users in over 80 countries, with millions of names submitted each month.

Peace of Mind—All your hard work will be maintained on-line where it is safe for future generations.
OneGreatFamily is truly a powerful genealogy service that provides unique benefits to those who use it. Dive into OneGreatFamily and see what we can do for your family tree.
OneGreatFamily Has Experienced Tremendous Growth

More than 130 Million Names Submitted to OneGreatFamily
Now there are even more reasons why people get connected to OneGreatFamily--over 134 MILLION in all!
That's right! To date there have been over 134 million names submitted to our database--and it's growing continually! Every day professional and amature genealogists everywhere are submitting to our shared database. No wonder OneGreatFamily is THE largest growing family tree available online!
And that's not all! People all around the world have been turned on to our unique concept of one "Family tree linking all the family trees of the world together" on the Internet. Because of our increasing numbers, OneGreatFamily is helping hundreds of thousands of people to avoid wasting time doing genealogy.
OneGreatFamily is among the most popular genealogy sites in the world and is working hard to add the features and resources that will make the site even more of a success.

Many thanks for helping this sapling tree grow into a mighty oak! And kudos to all of our fantastic community members around the globe who have made us what we are. Keep it up!
"Making Genealogy Magic" with Mandy Mathews
United States 1910 Census, United Kingdom 1891 Census
by Mandy Mathews, Family Historian
This week, we continue our overview of the census records with the United States 1910 census and the United Kingdom 1891 census. The 1910 census doesn't have quite the detail of the 1900 census, but still proves to be beneficial. The details on the 1910 U.S. census include:
Location

Street, Avenue, Road, etc.
House number or farm
Name – of each person whose place of abode on April 15, 1910, was in this family. Details include: Enter surname first, then the given name and middle initial, if any. Include every person living on April 15, 1910. Omit children born since April 15, 1910.
Relation of this person to the head of the family.
Personal Description

Sex
Color or Race
Age at last birthday
Whether single, married, widowed, or divorced
Number of years of present marriage
Mother of how many children

Number born
Number now living
Nativity – Place of birth of each person and parents of each person enumerated. If born in the United States give state or territory. If foreign birth, give country.

Place of birth of this person.
Place of birth of Father of this person.
Place of birth of Mother of this person.
Citizenship
Year of immigration to the U.S.
Whether naturalized or Alien
Whether able to speak English; or if not, give language spoken.
Occupation

Trade or profession of, or particular kind of work done by this person.
General nature of industry, business, or establishment in which this person works.
Whether an employer, employee, or working on own account.
If an employee –
Whether out of work on April 15, 1910
Number of weeks out of work during 1909
Education

Whether able to read
Whether able to write
Attended school any time since September 1, 1909
Ownership of Home
Owned or Rented
Owned free or mortgaged
Farm or House
Number of farm on schedule
Whether a survivor of the Union or Confederate Army or Navy
Whether blind (both eyes)
Whether deaf and dumb
The 1910 U.S. census offers similar information to the 1900 U.S. census. The main difference is the loss of the birth month and year of the individual on the 1910 census. You do gain the information about whether or not the individual is a survivor of the Union or Confederate Army or Navy. This can lead you to military records which can be a wealth of information!
The 1891 United Kingdom census includes the following information:
Road, street, and number or name of house
Houses

Inhabited
Uninhabited (marked – U) or Building (marked – B)
Name and Surname of each person
Relation to the head of family
Condition as to marriage (single, married, widowed, or divorced)
Age at last birthday (marked in individual columns for males and females)
Profession or Occupation
Employer
Employed
Neither employer nor employed
Where born
If 1- deaf and dumb, 2- blind, 3- lunatic, imbecile, or idiot
As you can see, the information on the United Kingdom census doesn't vary too much from year to year. It is important to note that you can do a number of different searches for an individual if you don't have success at first. Try each member of the household of different searches. There are indexes available that list the street names in the United Kingdom. If you can't find your family by doing a name search, but you have found them on other censuses, try looking at a street name index. When searching the census, it is important not to get discouraged. It is rare that a family will just be missed on the census. It does happen, but not often. If you can't find your family the first time around, try spelling variations, try looking up neighbors, and if you're looking in the United Kingdom, try searching through a street name index. Don't give up! There is always another search to try.
One Great Genealogy Site Award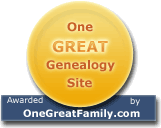 JewishGen - The Home of Jewish Genealogy
JewishGen is the primary internet source connecting researchers of Jewish genealogy worldwide. Its most popular components are the JewishGen Discussion Group, the JewishGen Family Finder (a database of 300,000 surnames and towns), the comprehensive directory of InfoFiles, ShtetLinks for over 200 communities, and a variety of databases such as the ShtetlSeeker and Jewish Records Indexing-Poland. JewishGen's online Family Tree of the Jewish People contains data on over two million people.

Created to assist those researching their Jewish ancestry and based on the concept of free sharing of information, JewishGen is staffed primarily by volunteers. To learn more about what JewishGen offers anyone researching Jewish ancestry, we invite you to explore www.jewishgen.org.
Get FREE Time On OneGreatFamily.com
Want Some FREE Time?

Current subscribers can earn additional free time by referring others to OneGreatFamily.com. OneGreatFamily needs your help in growing the largest single family tree in the world. You can get free subscription time on OneGreatFamily by referring others to this unique service. When anyone you refer to OneGreatFamily subscribes to our service and enters your username, you get an additional free month.



This newsletter is provided as a FREE service to the members of OneGreatFamily.com
You can view past editions of this newsletter by visiting our Newsletter Archive.
To unsubscribe to our newsletter service, you may do so by accessing our newsletter preferences page at https://www.onegreatfamily.com/Account/Edit/EmailPreferences.aspx.

Managing Editor: Heather Matthews
Contributors: Heather Matthews, Mandy Mathews and Rob Armstrong
Editor: Brenda Eyring