Family History Month Promotion Extended For Our Guests
OneGreatFamily Extended The Family History Month Promotion Until October 29th
OneGreatFamily has decided to extend the Family History Month Promotion until the end of October to make sure that all of our guests get the opportunity to take advantage of the great savings.
Consider how much more you get from OneGreatFamily by becoming a subscriber:
View the ancestors who have been added to your family tree because of our unique matching and merging process
See all of your ancestors who are already part of OneGreatFamily

Meet and work with distant family around the world

See how you are related to your famous ancestors

View unlimited generations of your family tree at one time

Make new discoveries over time - new families and information are added daily

So, as a guest, if you have not taken advantage of our Family History Month Special we encourage you to do so. We want to make sure that all our guests get their chance to see how powerful OneGreatFamily will be to their family tree.
Our prices for subscriptions through October 29th are the following:
1 Year (billed annually) $74.95 Now only $59.95!

3 Months (billed quarterly) $29.95 Now only $19.95!

1 Month (billed monthly) $14.95 Now only $9.95!
We encourage you to subscribe to OneGreatFamily to more fully enjoy the benefits of this expanding service. This promotion will end October 29th.
Success At OneGreatFamily

Beyond My Wildest Dreams
We enjoy hearing about the success our members have in building their family trees at OneGreatFamily. We appreciate Logan for sharing his success with us.
Dear OneGreatFamily,

I am excited with the results that I received within the first 2 days of my trial period. One of my lines was extended by your OneGreatFamily Tree from the mid 1500's to the early 1300's. I am amazed by the power of your system and how fast it is in merging my tree into the OneGreatFamily Tree and noting any discrepancies and other possible mergers. It even fully merged the three separate GEDCOM files that I submitted at the same time when I first signed up.

Your unique and very dynamic full tree in the right side of your browser window is way beyond anything that I have seen before. I cannot say how many times that I have gotten lost in a tree using other software technologies. Now I can know exactly where I am at all times. Then to think how quickly I can locate and change to any other part of my tree is just beyond my wildest dreams.

Sincerely,

Logan Wright
OneGreatFamily wants to hear your success story! If you would like to share your story of how OneGreatFamily has helped you in your genealogy quest, please send an email to ogfmarketing@onegreatfamily.com.
"Making Genealogy Magic" with Mandy Mathews
United States 1880 Census, United Kingdom 1871 Census
by Mandy Mathews, Family Historian
This week we are discussing the 1880 United States Census and the 1871 United Kingdom Census. The 1880 U.S. census is available on FamilySearch.org for free. The LDS church indexed the entire census. I think this census is the most accurate U.S. census that has been indexed. Many of the major websites send their census information overseas to be indexed by people whose native language is not English. While they do have an excellent accuracy rate, the 1880 census seems to have fewer mistakes than other census years that I've worked with. I believe the main reason for this is that the 1880 census was indexed by native English speakers who commonly work with genealogical records and are familiar with early American handwriting. This is my own opinion; I encourage you to find out for yourself.
The 1880 United States census lists the following information:
Residence (in cities)

Name of street
House number
The name of each person whose place of abode on the 1st day of June 1880, was in this family.
Personal Description

Color – White (W), Black (B), Mulatto (M), Chinese (C), and Indian (I)
Sex – Male, M; Female, F.
Age at last birthday prior to June 1, 1880. If under one year, give months in fractions, thus 8/12 means 8 months old.
Relationship of each person to the head of this family – whether wife, son, daughter, servant, boarder, or other.
Civil Condition

Single
Married
Widowed, divorced
Married during the census year (marked yes or no or possibly just checked)
Occupation

Profession, Occupation, or Trade of each person male or female.
Number of months this person has been unemployed during this census year.
Is the person (on the day of the enumerator's visit) sick, or temporarily disabled, so as to be unable to attend to ordinary business or duties? If so, what is the sickness or disability?
Health
Blind
Deaf and dumb
Idiotic
Insane
Maimed, crippled, bedridden, or otherwise disabled
Education

Attended school within the census year
Cannot read
Cannot write
Nativity
Place of birth of this person, naming state or territory of United States, or the country if of foreign birth.
Place of birth of the father of this person, naming state or territory of United States, or the country if of foreign birth.
Place of birth of the mother of this person, naming state or territory of United States, or the country if of foreign birth.
As you can see, the 1880 U.S. census offers a significant amount of detail. The addition of the place of birth of the individual's parents, and the relationship to the head of household are two of the most valuable additions. The other questions become more detailed by including women in the occupation column as well as asking about sickness, disability, and health details. This census starts to create a vivid picture of your ancestors' lives. I hope you enjoy finding out these little details as much as I have.
The 1871 United Kingdom census asked the following questions:
Road, street, and number or name of house
Houses

Inhabited
Uninhabited (U) or Building (B) – Note: this refers to whether it was a business (building) or a vacant dwelling (uninhabited)
Name and surname of each person
Relation to head of family
Condition (referring to marital status)
Age
Rank, profession, or occupation
Where born
Whether (1) Deaf-and-dumb (2) Blind (3) Imbecile or Idiot (4) Lunatic
There are several things that can help you find ancestors on the United Kingdom census. If you are having a difficult time finding someone once you have found them on another census, try looking for their neighbors. The census could have been indexed incorrectly and looking for a neighbor's name may lead you right to them. Also think about the way the name sounds and try alternate spellings. You have to think as they would have during that time period. There were many uneducated people and the concept of spelling did not exist as it does today. If an individual didn't know how their name was spelled (which was very common) it was up to the census taker to determine the spelling based upon how the name sounded. Don't get hung up on alternate spellings, they happen quite frequently. Open your mind to all the different ways a name could have been spelled and also how it sounded. Think about how the name would sound with the appropriate accent for that geographical location. You'll be surprised at what you might find.
One Great Genealogy Site Award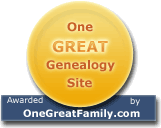 Ancestral Roots Travel
Ancestral Roots Travel believes that no family story is complete without a visit back to the places in your family tree.
They specialize in tailor-made ancestral travel and genealogical tours across Europe and assist you whether you are traveling with just one or two companions or as part of a group trip for a society, association or family reunion. Ancestral Roots Travel can arrange for you to stay in the towns and villages where your ancestors lived, visit the buildings and churches which they knew, and if you wish you can even meet with local historians and visit the local archives.
Get FREE Time On OneGreatFamily.com
Want Some FREE Time?

Current subscribers can earn additional free time by referring others to OneGreatFamily.com. OneGreatFamily needs your help in growing the largest single family tree in the world. You can get free subscription time on OneGreatFamily by referring others to this unique service. When anyone you refer to OneGreatFamily subscribes to our service and enters your username, you get an additional free month.



This newsletter is provided as a FREE service to the members of OneGreatFamily.com
You can view past editions of this newsletter by visiting our Newsletter Archive.
To unsubscribe to our newsletter service, you may do so by accessing our newsletter preferences page at htts://secure.onegreatfamily.com/Account/Edit/EmailPreferences.aspx.

Managing Editor: Heather Matthews
Contributors: Heather Matthews, Mandy Mathews and Rob Armstrong
Editor: Brenda Eyring