Annual Springtime Promotion at OneGreatFamily
Plant Your Family Tree at OneGreatFamily and Save
It's that time of year again! Every April, we at OneGreatFamily want to encourage our guests to celebrate Spring by planting their family tree. Why is spring the best time to start your family research at OneGreatFamily? Because from now until April 16th, you can sign up for a subscription to OneGreatFamily for up to 33% less. This is our biggest promotion of the year.

Researching your family tree shouldn't take you away from enjoying the spring sunshine. Submit your family tree to OneGreatFamily and let the service search for ALL of your ancestors, ALL the time.



Your OneGreatFamily subscription lets you do more . . .
Leverage the work of others to automatically grow your family tree more quickly.
Focus your research by identifying specific leads to check out
Collaborate with others working on your same family lines
Identify researchers who have broken through your research walls
You have previously visited the site and signed up for a Guest account, so to take advantage of this special offer, you need to go back to OneGreatFamily.com, log in, and then subscribe.

We are grateful for your continued support as we make the vision of providing the world with a common family tree a reality. We encourage you to subscribe to OneGreatFamily to more fully enjoy the benefits of this expanding service.

OneGreatFamily Tip: Spring Cleaning at OneGreatFamily
"Clean Up" your family tree and see how many more ancestors you can add to your family tree.
It's springtime! That means it's time for members of OneGreatFamily to clean their family trees with the help of others! Spring cleaning can often be a task that takes a great amount of time and effort, but not at OneGreatFamily. Our spring cleaning is easy and requires a small amount of time on your part. "Cleaning" your family tree is important because it adds value to the genealogy research you have already done and improves your ability to find more information through the matching and merging process at OneGreatFamily.

Sometimes users submit data to OneGreatFamily that contain errors. OneGreatFamily is good at showing where potential errors exist by showing where alternate information is available for the same person. This makes finding potential errors easy. Many submit erroneous information to OneGreatFamily, not understanding perhaps that OneGreatFamily's system works best with accurate information. Matching and merging isn't likely to take place on information that is incorrect.

Researchers should take some time to make corrections themselves as they identify mistakes. The first step is determining where the relationship, spelling, or event is incorrect. Next, you should take some time to analyze the problem. Finally, when you are certain where the error exists, you should edit the information. Remember that when you fix an error in one place within OneGreatFamily, everyone else immediately benefits from your effort.

Fixing errors in OneGreatFamily can help the system provide higher quality matches and can help other researchers who have "tied into" your research. Remember that your changes don't affect the information that is displayed for the person who originally submitted the data. Rather, your changes create a conflict and make alternate information available for that person to now review. After reviewing your new information, other researchers can choose to accept or reject your changes.

When "cleaning" your family tree, you can gain comfort and confidence as you find and correct errors that you may have introduced to OneGreatFamily. By someone taking the time to fix an error in one place, everyone else who is interested in that piece of information can now see the correction. This demonstrates how the quality of the information found at OneGreatFamily improves with each passing day.
Lisa Lights the Way
Locating Cemetery Records
by Lisa South, Certified Genealogist
The following article was written in the April 1, 2005 OneGreatFamily newsletter. Since Lisa is no longer writing for us, we are featuring some of our favorite articles written by her.
When you know an ancestor's death date and location (or can approximate one), you will want to check for cemetery records. Many cemetery records have been placed online and can be located by using a search engine; often death dates are listed by other researchers on sites such as OneGreatFamily. Sometimes an obituary or funeral service program can tell you which cemetery to search. If you cannot find a document that gives you the needed information, check with local historical societies to learn which cemeteries were used at that time. You should check the cemeteries in the following order: 1) those which allied with your ancestors' religious persuasion, 2) private graveyards, and 3) family graveyards.

There are many family graveyards in the South. Sometimes land deeds tell of them. Also, the land owner may know that there was a graveyard on his property, but not know where it was located. Of course, you will need permission from the current owner to search on his/her land. Many family graveyards are overgrown or the stones have been broken and covered. Most family graveyards were placed on a hill and a topographical map could help you narrow the search. If you obtain permission to try and locate an overgrown graveyard, carefully probing the ground with a pitchfork can help you locate tombstones that may have been covered up.

Once you have located the cemetery, you will want to determine if there are any cemetery or sextons' records. Family cemeteries, of course, have no sextons' records and church cemeteries rarely have them. Private cemeteries usually keep some type of record. They are often in the custody of the present sexton or office of the county or town clerk. These records can be very valuable when trying to locate your ancestor's grave in a large graveyard. They may also give some information about who purchased the grave. Occasionally, they will provide unexpected information. I contacted a sexton who kindly mailed me the records of the place of burial of each of my ancestors in the cemetery - and evidently this sexton believed in going the extra mile, because attached to each record was a copy of that ancestor's obituary!!
One Great Genealogy Site Award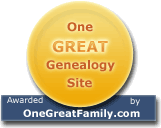 AncientFaces.com
Take a look at AncientFaces.com! Share Memories and Build Relationships. The AncientFaces Community welcomes you to share your genealogy research and family history for free. Take this opportunity to Join the Community and begin your discovery.

Here are a couple of features now at AncientFaces.com:

- Free genealogy search: Here you can find valuable information about your family legacy. Use your family surname to find family photos, family stories, military photos, family recipes, and connect to others in your clan.

- Share Memories - photos, stories, recipes: This Spring, AncientFaces invites you to share as well as discover your family legacy. Browse through shared memories and experience the world as it used to be.

- Build your Family Space : Family Spaces are personal websites where you can easily display and manage your family history in one place! Get your own web address to give to friends and family members and share family snapshots and family history.
Get FREE Time on OneGreatFamily.com
Want some FREE time?

Current subscribers can earn additional free time by referring others to OneGreatFamily.com. OneGreatFamily needs your help in growing the largest single family tree in the world. You can get free subscription time on OneGreatFamily by referring others to this unique service. When anyone you refer to OneGreatFamily subscribes to our service and enters your username, you get an additional free month.