Last Week at OneGreatFamily
Site Activity Summary
130,851 new individual merges!

36,021 new individual hints!

44,088 new family merges!

9,255 new family hints!

Activity Per Group

95 average individual merges

22 average individual hints

27 average family merges

2 average family hints

If you didn't receive a GenMail telling you about new merges in your family tree, your tree wasn't affected by this activity. You may want to add new individuals or information to your family tree to improve the likelihood of matches and merges taking place.
---
Having Success?
OneGreatFamily wants to hear from you. Please send us your success stories and your recommendations for new features.

Submit your story
Send us your wish list

---
Involve All the Members of Your Family
Doing ancestor research together is a great way to involve all the members of your family in a shared hobby. Ancestor research draws on the family knowledge and stories of the older generation, while younger family members can contribute useful computer and Internet skills to the ancestor research project.

Doing ancestor research together is a great way to schedule family time. Here are some ways that ancestor research can bring your family together:

1. Ancestor research starts at home. Even small children can ask Grandma and Grandpa for stories about their families, though they may need your help recording data. "What was it like when you were my age?" can elicit some memorable answers.

2. Make visits to local libraries, museums, and archives family adventures to pursue your ancestor research. Take family members of all ages to visit a local history museum, so older relatives can explain the common objects of yesteryear to younger folk.

3. When you know a little more about your family tree, plan vacations around ancestor research. Compile a list of houses, cemeteries, and places of historical interest connected with your family history. A trip to Ellis Island has much more meaning and interest when you know the names and stories of some of your family members.
Whether you're an old hand at ancestor research or you're just starting out, OneGreatFamily.com offers the chance to add entire branches to your family tree. You may find a lost ancestor or an entire forest of new connections. Share the fruits of your ancestor research with others who are working on the same family lines.



Login to OneGreatFamily to see your family tree
OneGreatFamily's Alternate Spellings Database is Growing!
Misspellings or alternative spellings of names can waste your time and can actually prevent you from finding an ancestor. They consistently cause a lot of problems and chaos on other genealogical websites.

The old Soundex Indexing System and Metaphone Algorithm and other "matching" tools that some websites use can only take you so far. For example, a search at a prominent website of the Social Security Death Index for the name John Christensen returned 369 matches. Conducting a Soundex search instead returns 3057 results, and includes such obvious non-matches as John Creighton, John Crockett and John Carchedi. Metaphone was less expansive, producing a result of 822 results, but still included obvious mismatches with names John Krystyniak and John Curseaden.

At OneGreatFamily, we deal with alternate spellings and common misspellings in a very different way. With your help, we have been building a list of alternate spellings of both first and last names - a list that is currently contains nearly 2000 names. The list is hand-built, and identifies realistic alternative spellings. Our Alternate Spellings tool is more accurate than any of these other generalized matching tools.

This tool is used in two ways within OneGreatFamily.

First, our round-the-clock, automated system uses these alternate spellings when searching for you. If you have a John Christensen in your family tree and OneGreatFamily is comparing your tree to one just submitted by a new subscriber, it will automatically look for John Christensen, John Kristensen, etc. If it finds a match based on an alternate spelling, it will mark it as a merge or a hint for your review.

Second, you can choose to use the list on your own if you do some searching yourself. To check out our great Alternate Spellings Tool, click on the tab labeled "Search" on the home page. You'll see the following: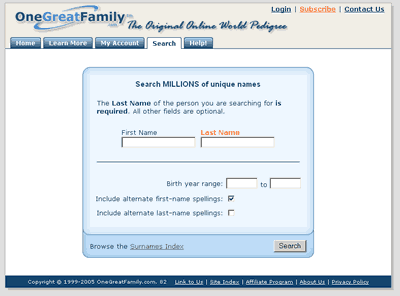 Notice the two check boxes, one to "Include alternate first-name spellings" and the second to "Include alternate last-name spellings". If you check a box, the respective alternative name list will be used. If not, it won't.

Our database is already extensive and we continue to add to it on a regular basis. However, we also encourage our users to make suggestions based on the things you discover as you investigate your family tree. Basing this list on the real-life experiences of our users will ensure that everyone's ancestors can be found by their name variants.

We encourage all of our users to make use of this great feature and to submit any alternate spellings we do not currently have. You can do so by clicking on the following link: http://www.onegreatfamily.com/static-tpls/genealogy_tools.htm

Remember, we manually review and approve each alternate spelling that is submitted to ensure its accuracy and validity.

We hope the continued growth of our Alternate Spellings database will improve your ability to find your ancestors at OneGreatFamily.



Visit OneGreatFamily's Alternative Spellings Database
Genealogy will never be the same!
Good Morning,

First off I must let you know what I think of your site. I and my family think it is inspired, and it has done so much for our research!!! Genealogy will NEVER be the same. Fifty years ago my father struggled greatly for years to compile six to nine generations . . . all his hard work is the basis for the 171 generations we now show in our pedigree at OneGreatFamily.

Best Wishes
James G. Hastings

Have you had a success using OneGreatFamily you'd like to share? Send it to us today!




Login to OneGreatFamily to have success at OneGreatFamily

Submit Your Success Story to OneGreatFamily
Want some FREE time?
Current subscribers can earn additional free time by referring others to OneGreatFamily.com. OneGreatFamily needs your help in growing the largest single family tree in the world. You can get free subscription time on OneGreatFamily by referring others to this unique service. When anyone you refer to OneGreatFamily subscribes to our service and enters your username, you get an additional free month.



Learn more about this FREE opportunity

Refer a new subscriber to OneGreatFamily today.